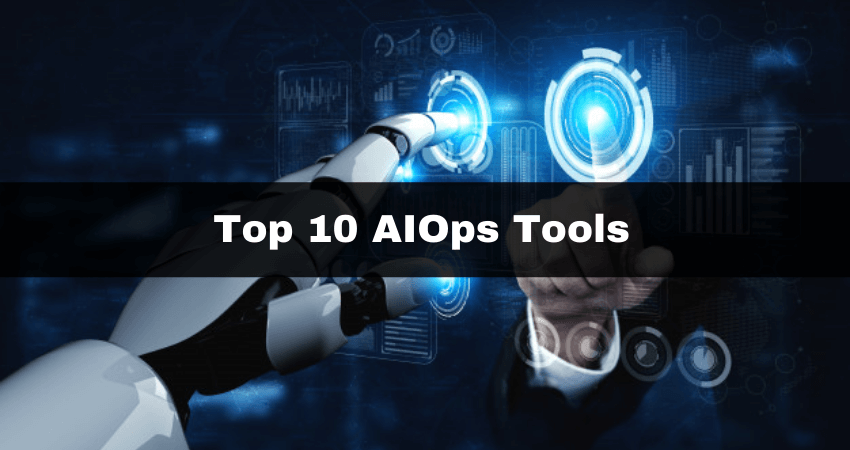 What Is AIOps?
The full form of AIOps is Artificial Intelligence for IT Operations.
Put simply, AIOps combines big data and artificial intelligence to automate and enhance IT operations that include performance monitoring, process automation, dependency management, anomaly detection, event correlation, IT service management, and analysis.
AIOps is a broad term and gives IT Teams a real-time holistic view of the entire IT infrastructure. With the use of AI and machine learning, AIOps not only simplify IT operations but also predicts issues that are unforeseen, resulting in proactive management of digital services. The concept is being explored by IT Ops teams and the marketplace of AIOps is still evolving. But, even today, many AIOps platforms are available in the market.
Top 10 AIOps Tools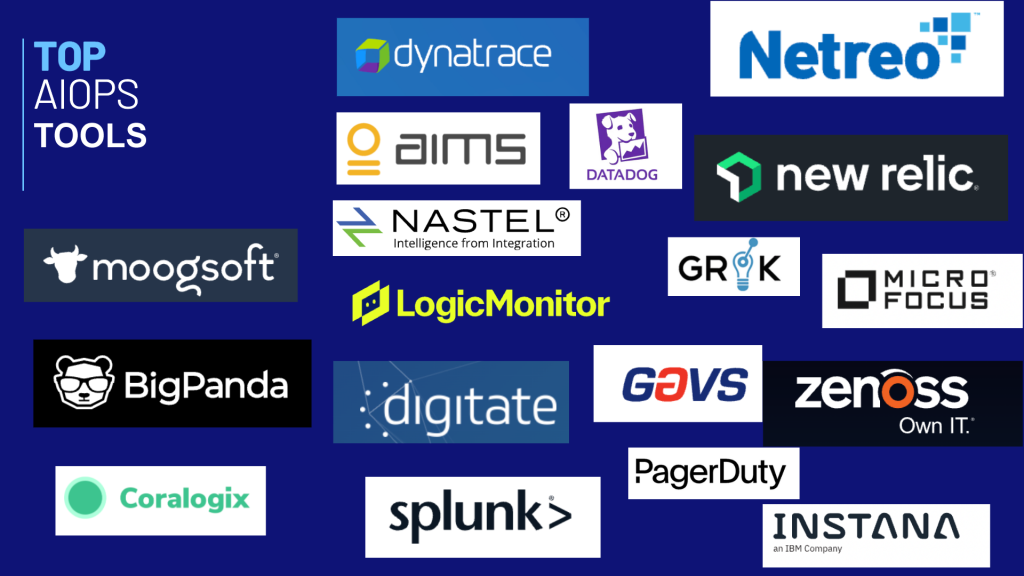 Splunk
Datadog
New Relic
Mosaic AIOps
BigPanda
Moogsoft
Instana
AppDynamics
LogicMonitor
Dynatrace
1. Splunk
Splunk is an American technology company headquartered in San Francisco, California. Splunk is the leader in the AIOPS tools market and is popular for its analytics and infrastructure monitoring. It provides a range of software products and services that are widely used in the search, monitoring, and analysis of machine-generated data. He has established himself as a leader in Application Performance Monitoring (APM), Security Analytics, Compliance, Infrastructure Monitoring, and AIOps.
2. Datadog
Get modern security and monitoring with Datadog to see inside applications and stacks at any scale, anywhere in your network. It provides everything from your servers and cloud to applications and teams, all in one place.
3. New Relic
New Relic is one of the top AIOps tool vendors. It focuses on Applied Intelligence, which aims to rapidly detect, understand, focus and resolve incidents. Through noise reduction, pattern discrepancy reduction, and deeper insight.
4. Mosaic AIOps
Mosaic AIOps is an AI-led enterprise IT ops platform by Larsen & Toubro Infotech. It provides enhanced asset monitoring, improved visibility, simplified operations, and automated detection and treatment. You can easily and effectively manage your IT landscape with Mosaic AIOPS which supports proactive operational intelligence. This helps in achieving high uptime and flawless performance for the end-users.
5. BigPanda
BigPanda provides event correlation and automation, powered by AIOPS, that helps operations teams detect, respond to, and resolve IT incidents more easily than ever before. As enterprises modernize and move to the cloud, IT Ops, NOC, DevOps, and SRE teams struggle with manual and reactive incident response capabilities that are poorly suited for the scale, complexity, and velocity of modern IT environments.
6. Moogsoft
Ensure the availability of your applications with automated correlation, collaboration, and noise reduction in workflows with Moogsoft. This enables you to experience less downtime and helps reduce alert noise by up to 99% to focus on your business growth.
7. Instana
Instana is a completely automated Application Performance Management (APM) solution. In November 2020, IBM announced a deal to acquire Instana as a part of its investments in big data and AI platforms. It is a German-American software firm that provides solutions for managing microservices and cloud-native applications. This empowers IT and DevOps groups to recognize and determine issues in a matter of seconds by following each solicitation and ingesting every one of the key measurements.
8. AppDynamics
AppDynamics is a very popular APM solution that manages the performance and availability of applications in cloud computing environments. It provides end-to-end visibility and real-time monitoring that helps prioritize what's important so that decisions and actions can be taken immediately. It is used by world-famous brands and many large enterprises to manage their IT environments. AppDynamics' core products use AI/ML to help gain complete visibility across business domains and reduce the overhead of IT operations that are responsible for running a business.
9. LogicMonitor
More visibility means more opportunities and less risk. LogicMonitor is a fully automated, cloud-based infrastructure monitoring platform for managing IT operations. With over 2000 pre-configured integrations, it provides complete visibility of on-premises server, cloud, and network monitoring – all in one integrated platform. It is equipped with AI-powered capabilities and an automated alert mechanism, making it easy to minimize disruptions and drive innovation and agility with AIOPS.
10. Dynatrace
Dynatrace is a top player in cloud monitoring. It is an American technology company that provides AI-based solutions for monitoring and optimizing application performance, operations, infrastructure, and experience. It has earned numerous industry recognitions including #1 Observability Platform by G2, Best Overall AI-Based Analytics Company by the AI Breakthrough Awards, and one of the Top Companies for Digital Performance Management by Constellation Shortlist.